The Lowdown
Base elevation: 600 m
Highest landing: 2,600 m

Av. runs per day: 10-12
Av. length of run: 850 m
Longest run: 1,900 m

Group size: 4
Groups per helicopter: 2 or 3

Season: December – April
Terrain: Alpine, trees, Glacial

International flight: Vancouver, British Columbia
Domestic flight: Terrace, British Columbia
Warm up resorts: Whistler, Shames
The Largest Heli-Ski Area in Canada
At 10,100 km2 and five times the size of the average heli-ski operation in Canada Last Frontier Heliskiing's exclusive playground dwarfs most of its rivals exclusive playground dwarfs most of its rivals. The smaller guys always tell you, "size doesn't matter" but is that really true? Obviously the quality of the terrain is pretty key but in our experience size really can matter. Here's why. Let's say you are due to arrive at more modest sized heli-ski lodge and it hasn't snowed for a week or two (it happens). In the days leading up to your arrival there have been 30-50 people skiing 10-15 runs a day every day. You can be sure that on the morning of your arrival the guides are scratching their heads trying to figure out which of their runs has the least moguls on it. Did you come heli-skiing to eat the tracks of the guy who came last week? It doesn't happen here...
Epic Snow Conditions
Vast quantities of light, dry powder snow bury the mountains of the Pacific Northwest. At an elevation of 1,600 m, twenty five to thirty metres of the stuff falls annually leaving a base of four metres - and often over six on the glaciers and higher elevations. To put that in perspective, Verbier in Switzerland gets between four and five metres a year….

Down Days are Rare
Minimal time is lost to poor weather. On average it is only half a day per week when Mother Nature does not allow the helicopters to fly. For most people that's a welcome rest for tired legs. Some heli-ski operations boast endlessly about having 'snow cat backup'. They aren't needed here.
Remote Location on The Alaska Border
With its remote location on the Alaska border you get an 'out there' sense of space and wilderness that you don't get at the majority of the heli-ski operations in the southern British Columbia. It's a bit like Alaska but with extensive tree skiing and minimal down time.
Prices & Dates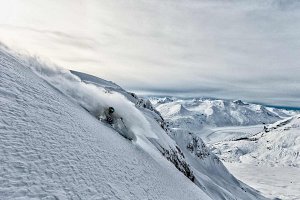 Related Reading
In this six part series you will get a unique insight into Last Frontier heliskiing.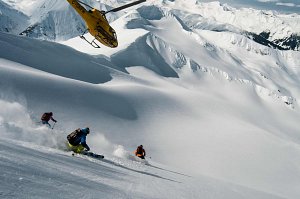 Related Reading
James Morland sums up his season working as a guide in the Great White North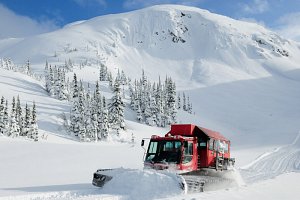 Related Reading
We often get asked whether this or that heliski lodge has 'cat skiing backup'. If it's somewhere we send people the answer is almost certainly no. There's a good reason why...