The Lowdown
Base elevation: 190 m
Highest landing: 1550 m

Av. runs per day: 12
Av. length of run: 950 m

Group size: 4
Groups per helicopter: 1-3

Season: End of February until end of June

International flight: Alpine, Couloirs, Glacial
Domestic flight: Akureyri
Ski to The Beach
Heli-skiing in Iceland is one of the most unique heli-ski experiences around. Topping out at around 1,500 metres the mountains may not be particularly high but many runs end right on the beach and few if any other heli-ski operations can boast 1,200 vertical metre fall-line runs right back to the lodge.
Quick Easy Access
This is simply the best and most accessible heli-skiing for anyone living in Europe or East Coast USA. In fact, there are now direct flights to Icleand from many cities worldwide. From leaving your desk in London to staring out over Iceland's magical peaks takes under three hours. Flights are inexpensive and there is no jet lag for those coming from Europe.
More Than Just Heli-Skiing
In Iceland the skiing is only one part of a magical and sometimes surreal experience. Long runs late into the golden arctic night, northern lights displays from the hot tub and picnics on the beach in the presence of dolphins and whales. This is a special place.
Terrain for Everyone
If you want to ski or snowboard genuinely steep terrain there is nowhere else in the heli-ski world that can offer this type of skiing more consistently. Owing to its maritime climate with regular cycles of warming and cooling the snowpack tends to be incredibly stable in Iceland which allows the steeper terrain to be skied more often and more safely. At the other end of the spectrum Iceland also has plenty of easy mellow terrain perfect for less confident skiers looking for an easy introduction to heli-skiing. This is especially so in late May and June when the norm is to ski on the easiest snow mother nature knows how to provide.
The Original and the Best
We work closely and exclusively with the pioneers of heli-skiing in Iceland and the most experienced guides – an operation that has been tried, tested and improved over the years and to which nothing else in Iceland comes close.
Prices & Dates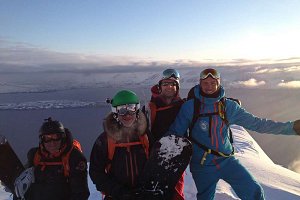 Related Reading
Perfect powder in mid-May right down to the beach. Best end to the season ever!