Featured Adventure
Heli-Ski Safari
Jonas Ernevi •
DEEP Heli-Skiing Adventure on the BC / Alaska Border
This is not your regular Canadian heli-skiing. This is big wild northern British Columbia and compared to southern BC with all of its heli-ski operations sandwiched together; it's like a different country.
Your adventure starts in Stewart, British Columbia - an old gold rush town on the border with Alaska where the bears outnumber people and 25 metres of snow falls each year. This is a raw, rugged experience where the focus is on the quality of the skiing not the fancy extras.
Heliski Safari Time
On the morning of day four something a little different happens. As normal you get changed into ski gear and fly out by helicopter but this time you are on a one way trip, skiing and flying 100 kilometres through some of the wildest ski terrain imaginable – through pristine forests and virgin slopes that may never have seen a ski track before. As the sun is going down and the legs are becoming weary you arrive at Bell 2 Lodge where warm glowing fires await...and the next part of the adventure begins.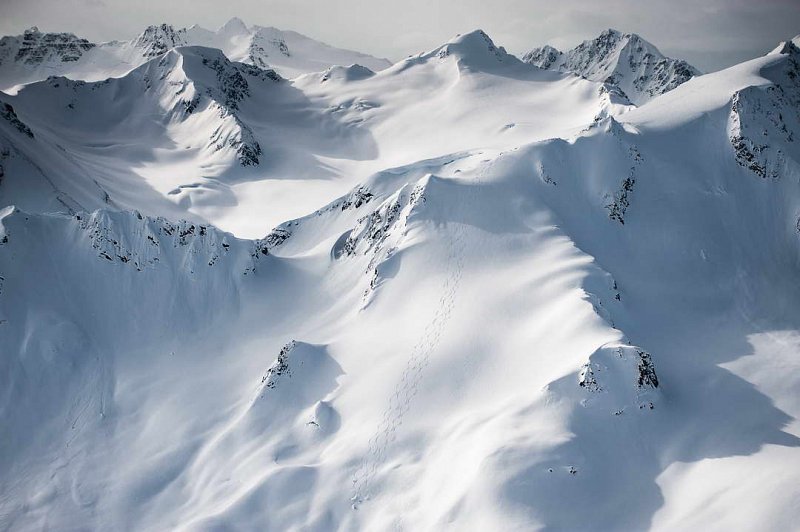 Salomon Freeski TV Visits The Last Frontier
Prices
7 Days (2024)

From CA$18,420 +5% GST

10 Days (2024)

From CA$21,240-24,200 + 5% GST
What's Included
5 nights at Bell 2 Lodge and 5 nights at Ripley Creek Inn (10 Day Trip) OR 3 and 4 nights split between Ripley Creek Inn and Bell 2 Lodge (7 Day Trip).
Only two groups of four guests per helicopter.
44,000 or 30,500 vertical meters of guaranteed heli-skiing.
All meals while at the two lodges.
Guide service.
Use of powder skis & all lodge facilities.
Return airport ground transfers to Bell 2 Lodge / Ripley Creek Inn.
Use of safety equipment including: avalanche transceiver and avalanche airbag
---
Dates



2024


10 Days
January 19 - January 29
February 02 - February 12
March 15 - March 25

7 Days
March 15 - March 22