Revelstoke Combinations
Elemental Adventure •
The idea of leaving the office on a Friday evening and stepping out of a helicopter into deep powder on a Sunday morning is certainly a tempting one, but for those of us who aren't fortunate enough to ski or snowboard multiple times each winter, starting with a few days of resort skiing to shake off the jetlag, sharpen up the skills and acclimatize to the mountains and the exertion is a great way of preparing for success on those hard-earned heli-ski days. Revelstoke offers the perfect solution.
Revelstoke Mountain Resort (RMR) is the ideal place to combine heli-skiing or heli-boarding with resort skiing and even ski touring. The Revelation gondola allows you to warm up on groomed runs before venturing into the side-country and further into similar terrain to what you will find when heli-skiing and (crucially) offers enough vertical to assimilate the length of runs you will be looking for on your heli-ski days.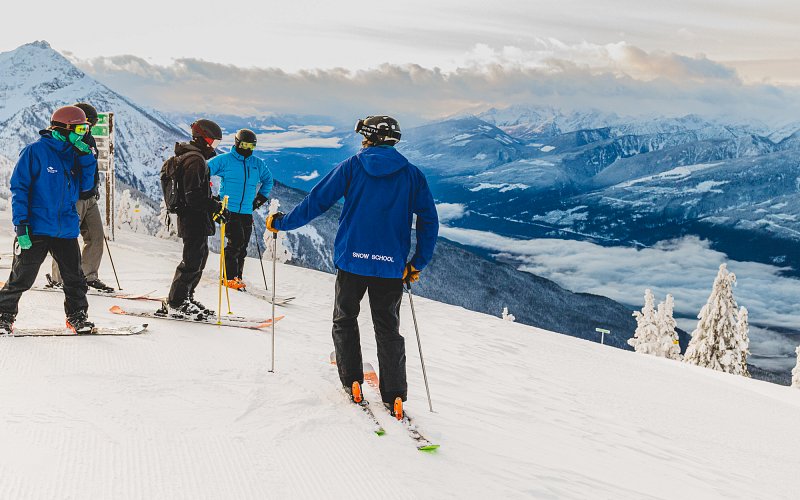 Sharpening Your Skills
For first-time heli-skiers and heli-boarders, the Mountain Sports School runs a specialised heli/cat course to ensure you are ready to make the most of your heli-skiing days, as well as advanced clinics to sharpen your skills for skiing between trees and in deep snow.
The First Tracks programme is also worth considering, giving you early access to the mountain each day. Given how frequently it snows in Revelstoke, this gives you a good chance of practicing in fresh powder on top of a groomed base - ideal for those looking to build confidence in deeper snow. This is great preparation for a standard multi-day heliski package or a small group heliski package, both available for 3, 5 or 6 days.
Mixed Ability Groups
RMR is also a great place for groups who don't all want to heli-ski or of varying abilities, but who want to share the trip. While Revelstoke's reputation is for steep and deep skiing, there is terrain for all standards. We think a week in one of RMR's exclusive properties with a private heli-ski package is a great way for any group to share an epic experience while ensuring that all agendas are met - powder days, spa days, beginner lessons, apres-ski and dinner parties.
What's more, if your group is split between hardcore powder hounds and less-experienced "off-piste" skiers, the heli days can be alternated between these two groups (while the other group rides RMR's lifts).
How Much Heli?
Our combination trips can be tailored to suit you and we can arrange anything from 3 days' resort plus 3 days heli. While it is possible to do shorter trips and fewer heli-days, we don't offer these trips because Revelstoke is a long way for almost anyone to get to and our experience is that "day-heli" trips can be frustrating because the time spent making great turns is often less than the time spent on safety briefings, by guides assessing the group's ability and you adapting to the conditions and the heli-skiing drill.
By committing to at least three days' heli-skiing, you have time to learn the ropes, show the guides how you ski so that they can choose lines with terrain and snow conditions that will maximise your enjoyment and hone your technique to ensure your trip fulfils your expectations.
How Much Will It Cost?
Revelstoke combination packages are highly flexible and based on your requirements, we can vary the accommodation, overall duration, number of heli-skiing days and can arrange ground or helicopter transfers, ski and snowboarding tuition and guiding and lift tickets.
It's worth noting that if you can gather a group of 10-12 to fill one of Revelstoke's exclusive properties, the value for money is pretty compelling.
The prices below are intended to give an indication of the cost of some of the options (based on travel in late January 2024) and may vary. They include accommodation, transfers and heliskiing but exclude flights (to Kelowna), ski tutiion, tax and gratuities:
3 Days RMR + 3 Days Heliskiing: From CA$8,900pp
Based on 3 nights at Sutton Place (Studio Suite on B&B) and 4 nights at Hillcrest Hotel (twin room on half board), including private transfers, 3 day lift tickets, all meals at Hillcrest Hotel. Heliski package includes 12,000 vertical metres in a Bell 205 helicopter, carrying up to 10 guests plus 1 guide per group, with up to 3 groups per helicopter.
3 Days RMR + 6 Days Small Group Heliskiing: From CA$21,650pp
Based on 3 nights at Sutton Place (One Bedroom Suite on B&B) and 7 nights at Hillcrest Hotel (twin room on half board), including private transfers, 3 day lift tickets, all meals at Hillcrest Hotel. Heliski package includes 30,000 vertical metres in an Astar B2 helicopter, carrying up to 4 guests with 1 guide per group, with up to 3 groups per helicopter.
7 Nights at Bison Lodge + 6 Days Private Heliskiing: From CA$17,500pp
Based on 7 nights at the fabulous Bison Lodge including chef, concierge, service team & housekeeping, breakfast and evening meals (including drinks), resort shuttle, private transfers to/from Kelowna. Heliski package includes 16.2 helicopter hours in an Astar B2 helicopter, shared between your 2 groups of up to 4 guests with 1 guide per group.
When To Book?
Availability of both accommodation and helicopters is snapped up pretty quickly, especially for mid-season weeks when the chances are highest of dream conditions. There are also some worthwhile early booking discounts to be had on hotels and lift tickets so this is a trip you should be planning at least a year in advance.