Planning a heliskiing or heliboarding trip
Oliver Evans •
Olly joined Elemental Adventure in September last year with a pretty solid grounding in the skiing and snowboarding business after nine years working in the Alps and more ski trips than he can remember. However, his experience in heliskiing was limited to a couple of days in Italy, so in January we sent him off to visit half a dozen of the world's pre-eminent heliski operators to find out what it is all about. What he learnt is relevant to anyone considering a heliski trip. We've broken down what he learnt into four parts. Part 1 is all about the factors to consider when choosing a heliski trip.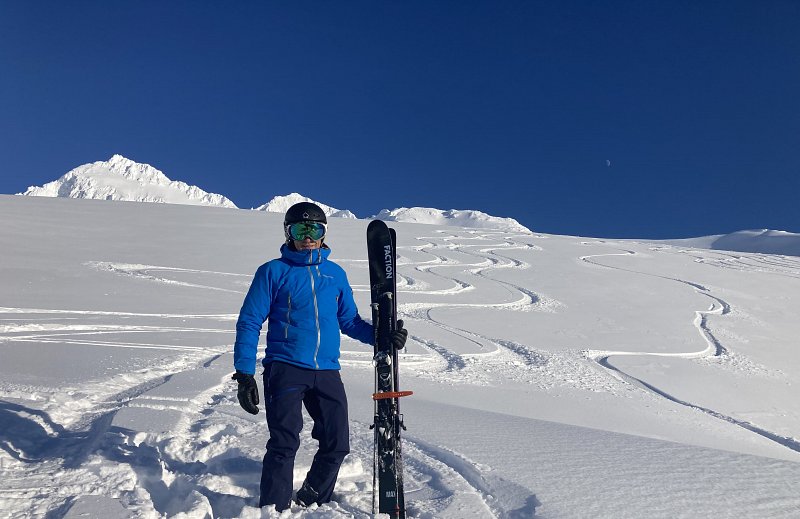 It seems simple doesn't it – for any skier or snowboarder, having a helicopter to whisk you to far-flung, snow-laden mountain ranges is the ultimate fantasy, so heliskiing must be amazing right? Well, yes, but as I learned, there is a lot more to it and thinking carefully about the myriad considerations (and getting good advice) is the key to making this great rather than good.
My only prior experience of heliskiing had been day-heliskiing. This is available in many places from Italy to Switzerland, Whistler to Japan. Based on my trip, comparing day heliskiing with multi-day heliskiing is like comparing dry-slope skiing with resort skiing – it might be the same sport, but it's a pretty different experience. Of course, multi-day heliskiing is beyond the means of many and you can get some memorable runs on a day heli trip, but day heliskiing often involves spending as much (or more) time in safety briefings and transfers as on skis and only getting a handful of drops (in limited areas). Big helicopters and lack of time to assess ability can result in intermediates and experts being in the same group – so some can feel rushed and stressed while others are frustrated, wishing for steeper pitches and waiting for others to sort their gear, get down a run or recover their lost skis, poles or sense of humour. If you get lucky with conditions, you will get some fantastic runs, but overall, you can't compare a one-day trip with a multi-day trip.
When to go and when to book? The holy trinity for any serious skier or snowboarder is light powder snow, blue skies and a stable snowpack, Perhaps the most important thing I have learnt is that this kind of perfection is impossible to guarantee, but the chances can be maximised. In an ideal world you would keep a clear week in your diary and choose where to go 5 days before, based on a forecast. However, conditions can go from all-time to ordinary (or vice versa) in a day and over 90% of heliski days will be booked months in advance. In fact, many "primetime" periods never become available because they are rebooked by last year's clients. So last-minute booking is highly unlikely to be a successful strategy. The good news is that by planning well in advance (e.g. a year), thinking carefully about your priorities and choosing a location and dates based on these, there is a high chance of fulfilling your skiing or snowboarding dreams. In theory, early season maximises your chance of cold, powder snow while late season brings longer days and bluer skies and mid-season has the "goldilocks" mix of snow and weather. In reality, any given week can be epic or ordinary, so my advice is not to sweat it too much – find out what's available where, then pick dates based on what you like the sound of and hope for the best.
Where to go will depend on a large number of variables and there are multiple trade-offs to consider. The first question tends to be "what kind of skiing are you looking for?". This seems simple - 99% of people want to ski powder (often ignorant of the bliss of skiing perfect corn snow), and every heli and cat skiing operator promises to fulfil that dream, but even that seemingly simple question has a more complex answer. OK, so do you want snorkel-depth powder or would "boot-top" suit you better? Do you ski well enough (and have the fitness) for tree skiing? Do you mind skiing in -25 degrees Celsius to maximise your chances of "blower pow"? Are you prepared to risk more "down days" killing time at the lodge if that increases your chances of deep snow? How important is it to you to ski steep terrain? By definition, the places that get the most snow tend to get slightly denser snow and more down days. Equally, places with spectacular alpine terrain for big turns might see more avalanche risk and flat light.
In reality, perfect conditions are highly subjective. Skiing pillow lines in old growth forest can be a dream for an expert skier with great fitness but a frustrating day for anyone without great technique and fitness. Equally, a bluebird powder day in the alpine will be a dream for many but a really strong skier or snowboarder might be wishing the pitches were just a little steeper or deeper.
How long to go for? Several years ago, when I was considering booking a heliski trip, I asked EA's Founder, James Morland, what the chances were of a "once in a lifetime" trip fulfilling my skiing dreams. He gave me odds of 2 in 3. Blowing my budget for a one in three chance of an anticlimactic trip had me lying awake at night. To be fair, James has skied more powder than anyone has a right to and his bar for "dream skiing conditions" is set very high. For most people, I think the odds of having at least some days they would consider to be "epic" are a little higher than 2/3. Trips range from 3 to 7 days and of course , the odds of scoring the weather and the snow conditions are lower on a short trip – if you arrive between snowfalls, you could be leaving just as the next dump of snow arrives while the next guests hit the jackpot. On a 7-day trip, you'd be really unlucky not to get a few amazing days. Overall, if you have to take a long-haul flight, I am inclined to think that the cost and jet lag make a 6 or 7 day trip more logical, but if you are time or budget constrained, doing two shorter trips is a good way of hedging your chances of scoring great conditions.
Terrain and tenure vary in many ways including size, pitch, type (trees or alpine), elevation and vertical range. Every operator will tell you they have a big tenure with endless varied terrain. In reality, some have pretty limited tree-skiing while others have almost nothing but trees. Huge tenures can give options but parts of them may not be skiable if they are too low, too steep, too flat, too densely vegetated or too far from the lodge.
Group dynamics are extremely important – skiing ability and personalities need to be closely aligned. Being part of a group that skis or snowboards at the same speed and whose company you enjoy will easily make the difference between a great and a good trip. The ideal scenario is to remove the chance factor by assembling you own group. Optimal group sizes are 4, 5, 6, 8 or 10 (to ensure you fill a helicopter or two). It can be hard to find the right number of buddies that have the skiing ability, the time and the money to make that happen so if those stars don't align, the next best thing is to find an operator that takes care to ensure skiing abilities are well-matched. Good operators will turn away bookings rather than create mixed ability groups.
(Helicopter) size matters. Small ones are more expensive but on the whole they are better. It matters less on a bluebird day when the terrain of choice is wide-open alpine, but on the more marginal days when flat light drives you into tree-lined runs and you end up lapping the same area, 11 sets of tracks means crossing a lot more tracks.
Vertical policy is yet another variable to consider, but one that you shouldn't lose too much sleep over. Some operators offer unlimited vertical at a higher price while many offer a fixed amount with a guarantee. Pricing of vertical feet is somewhat commoditised and you tend to get what you pay for - the variance in headline price has more to do with other factors – the inclusions (skiing, charter flights, food & drink etc) and the quality of lodge and staff. Unless you book "unlimited vertical" up front, it is worth factoring in some budget for extra skiing though, especially if you travel in the second half of the season when days are longer and weather perhaps more favourable.
Catskiing backup is worth considering but bear in mind that, if helicopters can't fly, that's because of poor visibility or high winds.
Your home from home: On websites, one lodge tends to look much like another but, in the flesh, the quality and size of lodges varies dramatically and it's worth paying close attention to where you will be staying. It would be fair to say that some cater to diehards skiers and snowboarders who have modest means but just love skiing deep snow, while other are aimed at a clientele who know their thread counts and their premiers crus. You should also consider that heliski operations tend to be in far-flung places and getting there can involve connecting flights and long transfers. Some boast short road transfers or helicopter airport pickups but the same snowstorms that create amazing conditions can also result in cancelled flights and diversions. It's worth understanding the risks and implications of a diverted flight or "no fly" conditions, including how this impacts the promise of skiing on arrival or departure day.
Food seems to be incredibly important on a heliski trip and you'll do well to come back without gaining a few pounds. It can range from functional to fantastic, but is always plentiful and most operations are pretty well-versed in dealing with allergies and specific diets.
All of this adds up to a pretty bewildering number of options to consider. Rather than sweating over them too much, you are likely to have a few parameters to start with (dates you can and can't go, the group you have in mind, how much time you can spare and budget) so the best bet is to contact us and we can use those to come up with a shortlist of options that are actually available, then help you narrow down the one that is likely to be your perfect trip.
Next time: How much does it cost to go heli-skiing (and will it guarantee me powder)?