How much does heli-skiing cost (and will it guarantee me powder)?
Oliver Evans •
Olly joined Elemental Adventure in September last year with a pretty solid grounding in the skiing and snowboarding business after nine years working in the Alps and more ski trips than he can remember. However, his experience in heliskiing was limited to a couple of days in Italy, so in January we sent him off to visit half a dozen of the world's pre-eminent heliski operators to find out what it is all about. What he learnt is relevant to anyone considering a heliski trip. Part 1 of this trip report was about planning a heliski trip. Now he comes on to the cost - and the likely return on investment...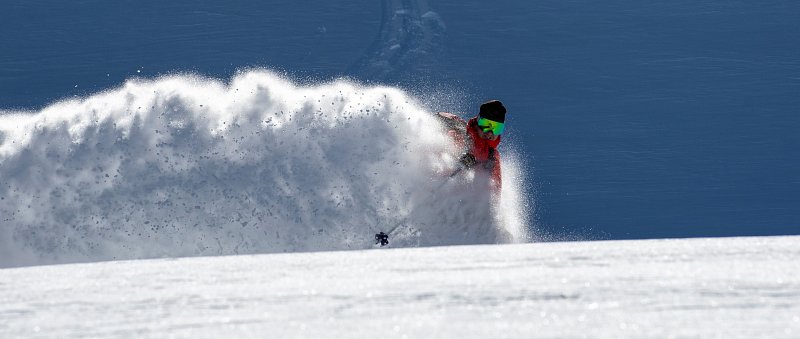 These are questions we get asked a lot and to which there aren't entirely straightforward answers.
It actually makes sense to answer the second question first. The short answer to that is "no…but it gives you a very good chance of finding powder and lots of it, if that is what you are after". The likelihood varies by location and time of year, so it is possible to work with these to maximise your chances if deep powder is your overriding priority. That said, much as we love deep powder, there is more to great ski trips than deep powder – steep pitches and interesting lines, epic scenery, local culture, adventurous travel, fabulous lodges, delicious food and great company are just as important for many.
Spending more doesn't necessarily increase your chances of great powder, but it can significantly increase the time you get to spend in it. You have a decent chance of powder on a day-heli trip, but a small-group, multi-day package will give you more runs per day and less people to share it with. The ultimate is a private trip (your own helicopter) which erases waiting time and maximises the amount you can ski but also enables you to make the most of short weather windows (which often coincide with great powder for obvious reasons) and gives you freedom to ski or snowboard at your own pace and where nobody else is.
At the most (relatively) affordable end of the spectrum would be One Day Heliskiing in places like Whistler or Revelstoke. These are usually arranged as part of a trip to a traditional resort. Don't expect to turn up and book the day before though – you will have to book your day(s) and keep your fingers crossed that you chose well. Prices start at around £1000 for a 5-run day, with the option of buying extra runs for around £100 each.
"Classic" Multi Day Heliskiing packages, which are bookable "by seat" run from 3-7 days depending on the operation . One helicopter is shared by 3 or 4 groups (1 or 2 groups for larger helicopters). Most will include a certain amount of vertical (but you should allow for more) while others work on an unlimited basis and others include helicopter time rather than vertical. Assuming high season dates and a shared room, prices range from around £1400-1900 per day assuming 5000-6000m of vertical per day. This guide price includes accommodation and food but excludes international flights, drinks, airport overnight accommodation and other extras.
Private heliskiing involves having exclusive use of a helicopter and is priced based on the machine not per person. This gives you ultimate freedom to ski when and where you want, and prices tend to include helicopter hours so that you can decide whether to maximise your vert (by skiing runs closer to base) or to explore the further, lesser-skied reaches of the tenure. Prices start at around £3000 per person per day based on groups of 3 or 4 skiers/snowboarders, usually including about an hour of flying time per day, accommodation, and food.
The boundaries between classic "by seat" trips and private trips are blurred by myriad variations on these themes and varying definitions of the different terminology.
The headline price of heliskiing might be high, but if you think about it on a "cost per perfect untracked powder turn" basis, we think it offers great value considering you can easily do more 'runs of a lifetime' in a single day than most people would do in a lifetime!.
Next time: what to expect when on your trip and how to prepare for it.